Improving physical security at a hotel
Problem statement
We're on a family vacation and found ourselves in a hotel… where they don't pay much attention to physical security.
And since "under door" style attacks are a thing, and the hotel door had a huge gap under the door1… I decided to fix the problem.
Solution
This is actually rather straightforward. Let me give you the money shot first: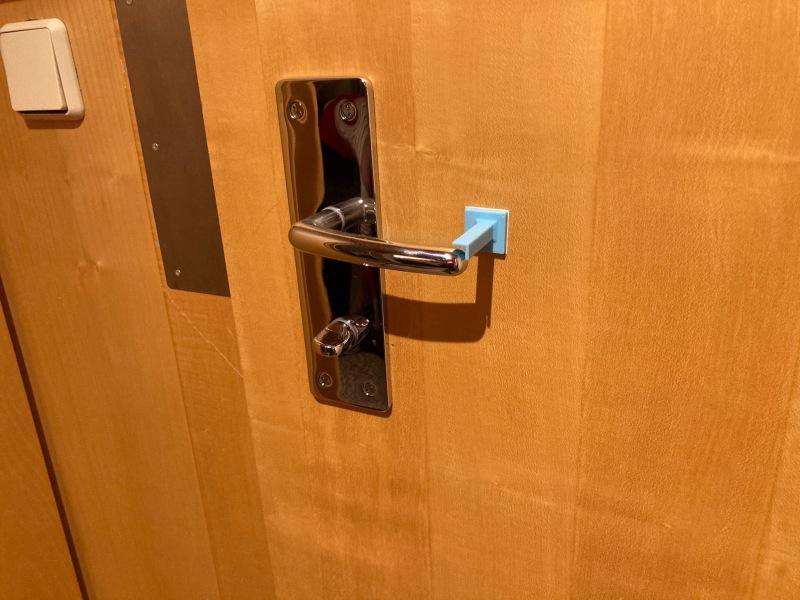 That's a result of about 10 minutes of quality time in Fusion 3602:
[Right here should have been an interactive 3D model.]
Followed by about 20 minutes of printing time (at the lowest possible resolution on a Prusa MK2 printer3).
As always, the design as well as the STL file are freely available under CC – BY NC SA license4.
Update 2022-04-30: I spent some quality time with OpenSCAD and came up with a new version:
[Right here should have been an interactive 3D model.]
It should be usable even when there's just a slim gap between the handle and the door.
The design and stl is released under CC – BY SA license.
Closing words
Surprising no-one, this quickie is not enough to protect against an improved under-door tool.
But I think I have an idea for a simple workaround for that5, too. Just don't have a pressing need to materialize it. Let me know if you have one of those improved under door tools with a claw… and want to co-op on the workaround.